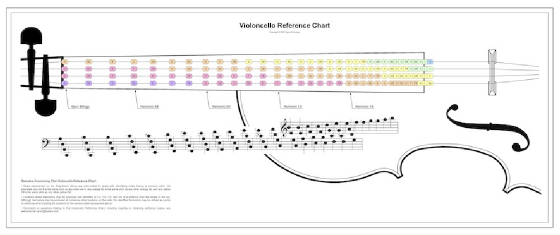 The cello, like any string instrument, provides a challenge to players of all levels. One area of difficulty involves mastering string positions corresponding with specific notes. Some notes are produced on multiple strings, whereas other notes are produced on only one of the four strings. To add complexity, the relative locations where notes are played differs among each of the four strings. The Violoncello Reference Chart may be of assistance in determining positions of notes and visualizing relationships between notes.
Click Here To Download The Violoncello Reference Chart
If you find the Violoncello Reference Chart useful or have suggestions for improvement, I would certainly appreciate your comments at
byron@kuzara.com
.
Printing - The Violoncello Reference Chart is best printed professionally on 46 by 86 centimeter paper. As an alternative, six A4 or US Letter sheets may be joined.
Copyright Notice - Although the author reserves a copyright in the Violoncello Reference Chart, permission is hereby granted to use, copy, or distribute for personal, educational, or other non-profit purposes. Using, copying, or distributing the Violoncello Reference Chart for commercial or other for-profit purposes is expressly prohibited without prior written consent.